Stirling Open Streets Festival
Event Details
Date: Saturday 22nd April
Time: 10am – 4pm
Mark Earth Day in a unique way with Stirling Open Streets Festival. Get arty, watch some live music, join a heritage or silent disco walk, and have a go at cricket or trial an e-bike. Take part in a junk model competition, take on a sustainable app design challenge and speak to local environmental groups to find out how you can make a positive impact…and so much more!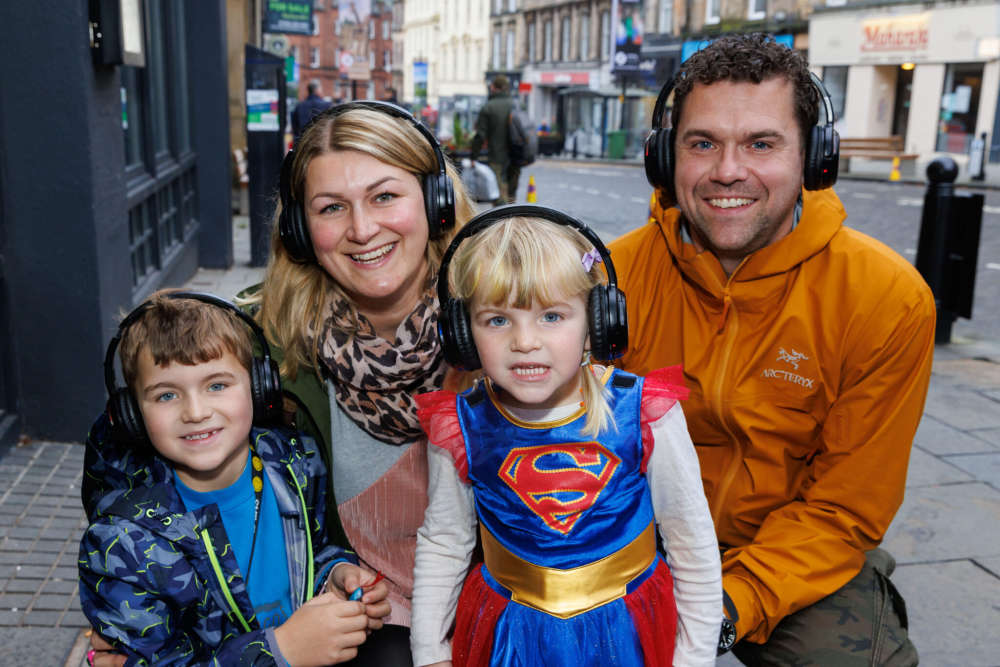 Silent Disco, Stirling Open Streets Festival, 2022
---
A Car-free Day
This free event will see King Street, Friars Street, Port Street and part of Murray Place closed to vehicles with visitors able to enjoy a range of family friendly activities in a unique, pedestrian-focused environment.
Residents and visitors can experience the busy city centre streets and enjoy its shops, cafes and attractions with reduced traffic congestion and environmental impact.
Open Streets promises to be a great day out for all the family!
Earth Day is a global movement where people around the world are encouraged to raise awareness of environmental issues and commit to a sustainable and equitable future for our planet. This year's Earth Day theme is 'Invest in our Planet'.
---
Programme
Port Street

Stirling Farmer's Market 10am – 4pm
---
King Street
10am Outdoor Yoga – relaxing drop in stand up yoga session with The Yoga Tree (meet at the roundel) theyogatreestirling.co.uk.
Creative Stirling 'Creating Safer Environments' art workshops for under 12s. Participants will have the opportunity to create small woven landscapes using non-recyclable items and contribute to a large-scale mural, using single use plastics and wrappers as part of a collaborative collage. Families will learn about how and why animals that affected by plastic pollution and educated on alternative ways to keep animals on our planet safe.
Workshops are drop in during the following times:
10am-10:40am
11am-11:40am
1pm-1:40pm
2pm-2:40pm

10am – 2pm in the Made in Stirling Shop

Stirling Council Waste Services – compost and recycling games. Can you correctly identify what goes in which bin?
Treelink – Find out more about our community planting projects, volunteer gardening opportunities and our Free Tree For Babies scheme.

Braehead Community Garden – seed planting

Butterfly Conservation Trust – Find out more about moths and butterflies and what you can do to help them thrive.
Forestry and Land Scotland – Find out more about renewable energy schemes, how we create and maintain trails and visitor facilities and conserve habitats, wildlife and archaeological treasures.

On The Verge – Learn about native wildflowers and what you can do to attract wildlife to your garden.
Central FM 10am – 4pm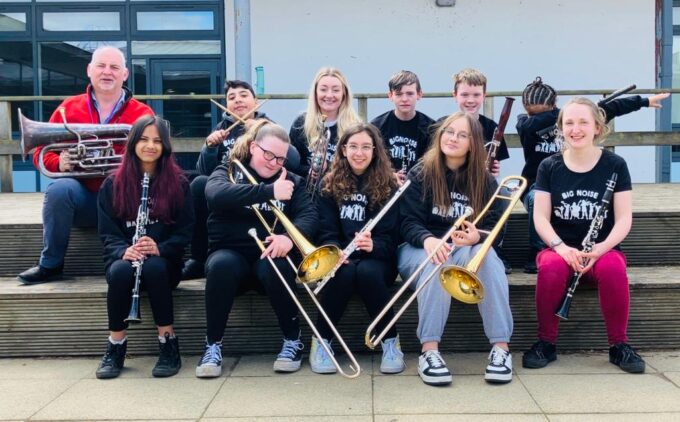 Big Noise 3pm
Stirling Gaelic Choir 3.30pm

Stirling Highland Games 2022
---
Murray Place

Recyke A Bike's Dr Bike – Bring your bike along for a free bike check with Recyke-a-bike, who will be offering minor adjustments and repairs to keep your bike running smoothly'.
Active Stirling Bikes Without Barriers – try adapted bikes

Forth Environment Link – trial e-bikes and learn more about sustainable living

Dunblane Cricket Club – Come and try session
Transition Stirling – Drop-in workshops making flowers from recycled carrier bags. Take part in our consumer quiz and our recycling game.

Independent cafes in Stirling are signing up to do their bit to reduce disposable cups by replacing with reusable Ditching Disposable cups and lids. The customer can choose to have their takeaway drink of choice in a reusable cup for a £1 deposit. Once they've finished, they can drop off your cup off to any of the participating cafes to get your deposit back. Find your nearest participating café.

Ross Brown Freestyle Footballer – workshop and demonstration 10.30am – 12pm Workshop booking here
Blairdrummond Safari Park on tour

GOSSIP Collective arts and crafts

Face painting

Circus Performance in Stirling

Play, Talk, Read – under 5s

SubSoccer Football game

10:30 – 5:30pm Whisky Sampling at The Scottish Gantry
---
Friars Street
From 12pm – Europa Music Stage – live music for Record Store Day
Stirling Council Countryside Rangers – 10am – 12pm bug hotel making
---
Other Activity

GOSSIP COLLECTIVE GALLERY (INSIDE THISTLE MARCHES)
10am-12pm Junk modelling competition – bring your own junk model to submit or create one on the day
11am-12pm Face painting
12-2pm Tote bag screen printing
1-2pm Face painting
2-4pm 'Thank You Mother Earth' story and art session

BANNOCKBURN HOUSE ON TOUR

STIRLING CITY WALLS HERITAGE WALK
Stirling Council Archaeologist Murray Cook - 10am Eventbrite booking link

STIRLING SILENT DISCO WALKING TOUR

Walking Disco, Stirling Open Streets Festival, 2022
This event is now FULLY BOOKED. Eventbrite booking link
CENTRAL LIBRARY – 11.15AM/2-4PM
Join us under the blossom tree outside the library for a free Bookbug session followed by arts and crafts inside the library 2-4pm.
CODEBASE SUSTAINABLE APP DESIGN CHALLENGE 10-11AM / 11.30AM-12.30PM
Join us at Codebase for one of our mini brainstorming sessions where you will be set a challenge to design your own app to help save the world!
You will be given a set of challenges to overcome and you must brainstorm together in a team (or solo if you prefer!) how you're going to solve the issues. Your mission will be to design an app that can help improve the planet and undo the damage that humans have done to our earth. Up for the challenge? Sign up now!
This session will be open to people age 8-16 – each attendee must be registered individually. Register here:
Sustainable App Design Challenge – Brainstorm Session 1
Sustainable App Design Challenge – Brainstorm Session 2
---
Even more to enjoy in the city…
On Saturday 22 April there will also be a range of other activities in the city centre visitors can enjoy and explore:

Jodie Differ

Stirling Gin Distillery Tours https://stirlingdistillery.com/tours/

Stirling Ghost Walk 8pm – Stirling Ghostwalk :: The popular tourist attraction in the Old Town area of Stirling

Smith Art Gallery and Museum – Home – The Stirling Smith Art Gallery and Museum
Tolbooth – Horse 7.30pm Scottish singer Horse HORSE Trio – Acoustic-Y – Stirling Events
Stirling XP – Explore Stirling in augmented reality. Download the app.


Horse McDonald
---
Accessibility
The festival will host a changing places toilet. The Mobiloo will be on site – a mobile vehicle toilet with hoist and changing table. Facility users are requested to bring their own sling should you wish to use the toilet – full info at www.mobiloo.org.uk.
---
General Information
Open Street Days typically aim to create traffic-free environments in which there is more space for people to safely meet, socialise, walk, cycle, wheel, play and generally have fun! They give us the opportunity to experience street life differently and reimagine how our public spaces could be used and enjoyed. For businesses, they are a great opportunity to be innovative and to attract new customers.
Open Street Days have proved successful in other areas, such as the City of Edinburgh, and are common in cities throughout Europe. They have been found to bring the following benefits:
Increased city centre footfall, helping to support businesses and the local economy;
Increased accessible recreation space, allowing people to meet in the streets and leading to greater social interaction and better connected neighbourhoods;
Reduced levels of motorised vehicles, leading to a reduction in air pollution and noise levels; and
Increased levels of active travel, leading to healthier and more active communities.
Taking advantage of the car free environment, the festival will include music and arts performances, family activities and opportunities for businesses to make use of the increased space and to encourage footfall into their premises by engaging with the event programme.
We want to ensure that businesses and local residents have the opportunity to be involved in these events, and have a say in how the events are run.
We have included a Frequently Asked Questions (FAQs) section which we hope will answer some initial queries you may have about road closures and transport arrangements.
---
Parking and Transport Information
Visitors are being encouraged to walk, cycle, or take public transport to the event where possible.
For those cycling to the event, bring your bike along for a free bike check with Recyke-a-Bike, who will be offering minor adjustments and repairs to keep your bike running smoothly.
The following streets will be closed to traffic during the event: Murray Place, Station Road, Friars Street, King Street and Port Street.
All disabled parking spaces displaced during the event will be replaced on the perimeter of the event footprint and a drop off point will be located on Port Street.
Parking restrictions will be in place from 7pm on the 21st of April to 7pm on the 22nd of April. Roads will be closed from 5am till 7pm on the 22nd.
A free park and ride service will be in operation from Springkerse and Castleview
---
FAQs
Which streets will be closed?
Murray Place
Friars Street
King Street
Port Street
And parking bays in Port Street will be suspended.
How long will the street closures be in place?
Parking restrictions, on these streets, will be in place from 7pm Friday 21 April to 7pm Saturday 22 April. Road closures on these streets will be in place from 5am to 7pm Saturday 22 April.
I am a business owner, what impact will Open Streets have on my business?
Business owners are often concerned that restricting cars will mean their businesses are inaccessible and could suffer as a result. In reality, Open Streets programmes are often a boon to local brick and mortar businesses. One of the defining features of Open Streets is that they do not feature out-of-area vending which is often a feature of other outdoor events.
Open Streets provides opportunities for local businesses to showcase their neighbourhood. We will also monitor economic activity in and around the Open Streets areas to see what the impact is on Stirling businesses.
How will I get deliveries to my business during the day?
We would greatly appreciate if you could arrange for any deliveries to be made on the day prior to the street closure taking place. If a special delivery is required, please inform us before the event and we can assess if access will be possible to arrange this to take place between 5am-7am on Saturday 22 April.
I am a resident, where will I park my vehicle?
If you are a Blue Badge Holder, please use the disabled parking bays on Dumbarton Road and Upper Craigs. If you are a resident with a parking permit, you will still be able to park in either the resident permit holders spaces or the Pay & Display spaces surrounding the closed streets but within your permit zone. Temporary disabled spaces will be created on surrounding streets to mitigate for lost spaces within the event footprint.
If you don't have a parking permit you will be able to park your vehicle on any of the surrounding streets, but please be aware of the normal parking restrictions that exist on these streets.
What happens if I don't manage to move my vehicle?
A lift and shift operation will be carried out by Stirling Council from 7am on Saturday 22 April. This will involve moving any parked vehicles on the event streets and these will be moved to a safe, alternative location.
Will I still be able to access public transport?
Alternative arrangements will be made for bus stops that currently operate within the event area. Check with your local transport provider for information.
How will surrounding traffic be managed?
The planned road closures have been designed to ensure traffic can move freely around the event. Whilst it is our hope that people will choose to arrive at the event by public transport or under their own steam, it's important that the event does not have a negative impact on surrounding roads and key transport links. We know that cities see fewer traffic problems if residents are able to safely walk, cycle, and take public transport in their daily lives. Open Streets events are a great way of introducing people to active travel, highlighting that Stirling really is a very compact, walkable city.
A traffic management plan is currently being put in place and will be available in the lead-up to the event.
Will emergency vehicles be able to access the closed streets?
Yes, emergency vehicles will be able to access all of the streets, at all times.
Who can I contact about the Open Streets event/s?
Please email us at openstreets@ stirling.gov.uk